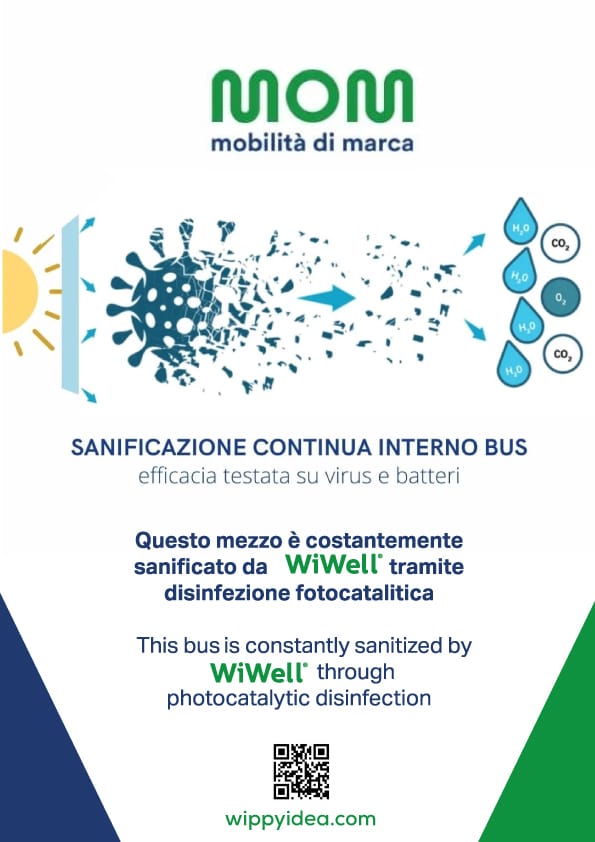 Le prestazioni delle pellicole fotocatalitiche WiWell diventano una pubblicazione scientifica
WiWell in una pubblicazione scientifica
Grande soddisfazione ieri nel team WiWell: la prestigiosa rivista "Journal of Photochemistry and Photobiology" ha valutato positivamente e accettato lo studio sull'efficacia fotocatalitica delle pellicole WiGlass nel settore del trasporto pubblico.
La pubblicazione scientifica (JPAP-D-22-00076R2) è il frutto di mesi di ricerca e analisi ad opera del professor Umberto Tirelli (oncologo e specialista in malattie infettive di rilievo internazionale), del per.ch.ind. Luca Berto (autore di parte dei test) e del dr. Salvatore Chirumbolo, Ph.D. (scienziato biochimico clinico, ricercatore presso Università di Verona).  Le analisi e i test sono stati effettuati sul campo, recandosi presso i diversi clienti per analisi ambientali e tamponi nei mezzi pubblici durante la loro operatività, e in laboratorio. Sono poi seguite settimane di analisi documentale e di valutazioni scientifiche. Lo studio è stato in seguito sottoposto e positivamente accettato dalla commissione di valutazione ed è ora in fase di pubblicazione.
Oltre a tutta la documentazione, case-history e letteratura fornita, la commissione di valutazione ha esaminato anche eventuali controindicazioni (assenti) e ha conseguentemente approvato la ricerca.  A breve quindi tutti i dati saranno ufficialmente a disposizione della comunità scientifica Internazionale!  La rivista "Journal of Photochemistry and Photobiology" (Elsevier) è leader nel mondo per la fotocatalisi e la fotobiologia, ed ha un IF (fattore d'impatto) di 3.261.
Anni di continua e instancabile ricerca da parte di WiWell ottengono infine una grande conquista e un riconoscimento di grande valore dell'eccellenza dell'Azienda, che vanta una produzione e R&D completamente made in Italy.
Infine, ci preme informarvi che questa sarà solo la prima pubblicazione scientifica che ci vedrà protagonisti.  Seguiranno altre ricerche che riguarderanno il miglioramento della qualità dell'aria attraverso fotocatalisi provocata dai prodotti WiWell.  Gli studi riguarderanno diversi ambiti quali ambiente scolastico, ambiente lavorativo, luoghi di aggregazione in genere, zootecnia e agroalimentare.
WiWell S.r.l. sempre più pronta ad accettare nuove sfide!