WiWell S.r.l. avvia una nuova importante collaborazione scientifica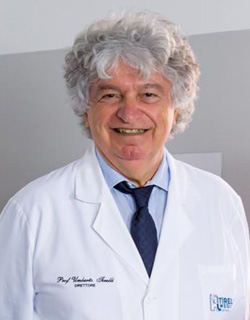 WiWell S.r.l. considera la ricerca e la divulgazione scientifica una condizione essenziale per la comunicazione di una tecnologia così importante, variegata e complessa quale la fotocatalisi.
Siamo pertanto fieri di poter annunciare che dal 13 marzo 2022 abbiamo avviato una collaborazione scientifica con il Professor Umberto Tirelli.  Questo nell'ottica di poter beneficiare e contemporaneamente offrire un continuo approfondimento e supporto scientifico anche ai nostri clienti nel campo della fotocatalisi.
Il Prof. Tirelli, prof. Ac presso l'Università di Pavia, specialista in oncologia, ematologia e malattie infettive, vanta un curriculum come Past Primario Oncologo presso l'Istituto Nazionale Tumori di Aviano.  Sulla base delle sue pubblicazioni scientifiche è stato inserito tra i primi Top Italian Scientists dalla rivista Plos Biology dell'Agosto 2019.  Nominato Commendatore della Repubblica Italiana per meriti scientifici, è stato inoltre incluso nell'Advisory Board dell'USERN (Universal Education and Research Network) che annovera oltre 400 membri tra i migliori scienziati mondiali, tra cui 18 premi Nobel.
Il Prof. Tirelli ha all'attivo, ad agosto 2015, oltre 800 pubblicazioni edite a stampa sulle principali riviste mediche del mondo, di cui 567 recensite su Medline, la banca dati del National Institute of Health Americano.
È pertanto per noi motivo di orgoglio dare il benvenuto al Professor Tirelli nel mondo WiWell.  Il suo entusiasmo nell'accogliere la sfida della sanificazione tramite fotocatalisi e il suo prezioso contributo a livello scientifico siamo certi garantiranno notevole impulso all'ampliamento delle applicazioni della fotocatalisi in ambiti sempre più specifici e settoriali, e daranno grande rilievo alla divulgazione della tecnologia da noi abbracciata e in cui fortemente crediamo.