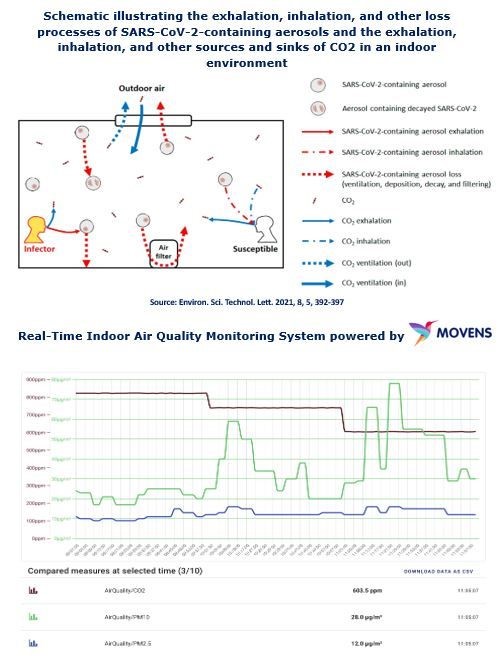 Collaborazione WiWell – Henshin Group Ltd e la sua MOVENS technology per il monitoraggio della qualità dell'aria in ambito indoor
L'IoT entra nel mondo di WiWell
La collaborazione WiWell con Henshin Group Ltd e la sua MOVENS Technology permetterà un monitoraggio costante della qualità dell'aria all'interno dei mezzi pubblici
Le aziende di trasporto pubblico devono garantire standard di sicurezza elevati e di comfort dei propri passeggeri durante il tragitto.  Diventa pertanto importante monitorare la qualità dell'aria all'interno dei mezzi di trasporto, verificandone i livelli di CO2 (la cui correlazione con la trasmissione dei virus, in particolare il Covid-19 è stata recentemente oggetto di studi) e di particolato (PM 10 e PM 2.5).
Le pellicole microforate fotocatalitiche WiGlass di WiWell S.r.l. , poste all'interno di ambienti e/o degli abitacoli di mezzi di trasporto pubblico o privato, effettuano una disinfezione catalitica che agisce continuativamente e riduce agenti inquinanti, batteri, virus, idrocarburi, VOCs etc.
Grazie alla piattaforma multistrato MOVENS, e che si avvale della tecnologia IoT (Internet of Things), i clienti di WiWell S.r.l. possono ora monitorare in tempo reale e da remoto diversi importanti livelli: la qualità dell'aria e relativa purificazione, parametrati e confrontati con valori standard definiti dai laboratori, presenza degli inquinanti residui dopo che questi sono stati annientati dalla fotocatalisi provocata dalle pellicole WiGlass, misurazione dei parametri fisico-ambientali che sono indicativi della qualità dell'aria indoor, quali i livelli di CO2 e dei particolati PM10 e PM2.5.  Ma non solo: MOVENS fornisce in tempo reale altri dati quali il tasso di umidità dell'aria, la pressione atmosferica, i livelli di emissioni acustiche e di vibrazioni, o la luminosità.
Henshin Group Ltd, con la sua MOVENS Technology, e WiWell S.r.l. collaborano per il monitoraggio della qualità dell'aria in ambienti indoor molto sensibili.
Ci pregiamo riportare di seguito il post con cui Henshin Group Ltd annuncia la collaborazione sul proprio profilo LinkedIn:
"#publictransport operators are required to ensure high #safety standards for people on board and improve #travelcomfort. Monitoring of airborne agents and pollutants in #indoorair, also known as indoor air, that are potentially harmful to health, is a necessary activity to which both public and private entities are accountable.  A recent study conducted by the Cooperative Institute for Research in Environmental Sciences (#CIRES, 2021) and the University of Colorado Boulder showed a 𝗰𝗼𝗿𝗿𝗲𝗹𝗮𝘁𝗶𝗼𝗻 𝗯𝗲𝘁𝘄𝗲𝗲𝗻 𝗵𝗶𝗴𝗵 𝗖𝗢𝟮 𝗹𝗲𝘃𝗲𝗹𝘀 𝗮𝗻𝗱 𝗶𝗻𝗰𝗿𝗲𝗮𝘀𝗲𝗱 𝗿𝗶𝘀𝗸 𝗼𝗳 𝘃𝗶𝗿𝘂𝘀 𝘁𝗿𝗮𝗻𝘀𝗺𝗶𝘀𝘀𝗶𝗼𝗻, 𝗽𝗮𝗿𝘁𝗶𝗰𝘂𝗹𝗮𝗿𝗹𝘆 𝗖𝗼𝘃𝗶𝗱-𝟭𝟵.
Wi Well, manufacturer of the photocatalytic disinfection system using micro-perforated transparent films to be applied to the interior glasses of vehicles or buildings called #WiGlass, has chosen #MOVENS 𝘁𝗲𝗰𝗵𝗻𝗼𝗹𝗼𝗴𝘆 𝗳𝗼𝗿 𝗿𝗲𝗮𝗹-𝘁𝗶𝗺𝗲 𝗺𝗼𝗻𝗶𝘁𝗼𝗿𝗶𝗻𝗴 𝗼𝗳 𝗶𝗻𝗱𝗼𝗼𝗿 𝗮𝗶𝗿 𝗾𝘂𝗮𝗹𝗶𝘁𝘆. Once the #IoT module is installed, #MOVENS multi-layered platform operates on three levels: ✅ Verification of the effectiveness of #sanitization action through #realtimemonitoring of operational parameters/values against reference ones defined by laboratory tests ✅Measurement of the residual presence of #pollutantparticles removed from the film, such as 𝗵𝘆𝗱𝗿𝗼𝗰𝗮𝗿𝗯𝗼𝗻 𝗰𝗼𝗺𝗯𝘂𝘀𝘁𝗶𝗼𝗻 𝗿𝗲𝘀𝗶𝗱𝘂𝗲𝘀 (hydrocarbons and nitric oxide) and 𝗩𝗢𝗖𝘀 (so-called volatile organic components such as, for example, ammonia, formaldehyde, and benzene) ✅Measurement of the physical-environmental parameters that express the degree of #indoorairquality, such as the concentration level of #CO2 and particulate matter (#𝗣𝗠𝟭𝟬, #𝗣𝗠𝟮.𝟱), but also temperature, relative air humidity, atmospheric pressure, #acousticnoise level and #vibration, and #lighting. Pleased to contribute to citizens' wellbeing and a more #sustainablesociety with our trusted partner Wi Well. #health #smartcities #smarttransportation #safety #iotsolutions #iotplatform"
https://www.linkedin.com/posts/henshin-group-ltd_publictransport-safety-travelcomfort-activity-7031899341506158592-jkqH?utm_source=share&utm_medium=member_desktop